Announcements
With the meeting fast approaching, please check here regularly for announcements and updates.
The Blue Hat Prize for best non-student talk, as judged by students, goes to Emily Riehl, for her amazing plenary talk on Wednesday. Congratulations!
Conference recordings: you can access them from the lobby in the same way as you joined them (a few hours after each session ends). Look in the Sessions tab on the left for the session of interest: the "Join" button has changed to "Watch recording". They will be available for a week after the conference ends; there are no external links to these recordings: they are available only to registered participants.
The Bernhard Neumann Prize is awarded each year for an outstanding student talk. This year's prize goes to

Joshua Ciappara, (University of Sydney) for his talk "Hecke category actions via Smith–Treumann theory" in the Representation Theory session.

Honorable mentions to:

Bethany Caldwell, (UniSA)
James Stanfield, (UQ)
Alan Stoneham, (UNSW)
Giacomo Tendas, (Macquarie University)
Schedule changes:
Probability Theory and Stochastics: Thursday 9th: The talk by Xi Geng will be moved to Friday. The Thursday session will start at 13:30. Friday 10th: Xi Geng will give a keynote talk (Talk by Nathan Ross is canceled).
Optimisation: Hui Ouyang's talk has moved from Thursday 9:00am to Wednesday 14:00.
Non-commutative Geometry and Operator Algebras: Thursday Alex Mundey 13.30pm and Aidan Sims 14.30

will change to Thursday Alex Mundey 14.30pm and Aidan Sims 13.30.
Algebra: Aparna Pradeep Vadakke Kovilakam will give her talk on Wednesday at 19:30 in the slot originally intended for Carmine Monetta, who will instead give his talk on Friday at 17:30.
Face-to-face Group Photo (click for larger version):
Older announcements:
The interactive conference schedule is available here.
For record-keeping reasons, the Annual General Meeting will take place in a standalone (i.e. ordinary) Zoom meeting, the link to which was emailed to all AustMS members.
The conference booklet is now available. It will be regularly updated.
You can download the the master schedule here.
Zoom Events. The talks will be online in Zoom Events. This is not the same as a regular Zoom meeting that can be joined from a simple link. You will have received an email (On Tuesday 30 November) with a ticket to Zoom Events. This ticket is free, but you need a Zoom login. You can either create one, or use an email address (like your university email address) that is already registerd with Zoom. If you would like to use a different email address than the one you used to register for the conference, let us know. See here for more information.
gather.town. Like last year, we'll be using gather.town as a place to mingle online. You can access it via a link that was sent to your email (On Tuesday 30 November).
We will have a meet-and-greet in gather.town on Monday evening 7-8pm, as well as another gathering around the time of the conference dinner. Besides that, gather.town will remain open throughout the conference, so please drop in and meet people, especially during coffee breaks.
Discord. We have set up a discord server for the conference. Discord is a messaging app that has a variety of discussion channels, including one for each session. If you let it, it can also deliver push notifications to your device, which is the quickest way to get updates about the conference.
You will have received an email (On Tuesday 30 November) containing the link to join Discord, along with instructions for signing up.
If you are attending the face-to-face component, please complete this form. It is required for COVID-19 contact tracing purposes, and you can also indicate which sessions you would like to attend, which helps us allocate venues for you.
We are charging face-to-face participants $100 to contribute to catering costs. Please click on the Payments link in the Register! system to make your payment if you are planning to attend in person.
The conference dinner will take place at the Customs House Hotel on the foreshore on Thursday 9 December. We are charging dinner participants $100 to contribute to dinner costs. Please click on the Payments link in the Register! system to make your payment if you are planning to attend in person.
Email issues. Looks like the worst of the email issues have been resolved now.
About
The 65th Annual Meeting of the Australian Mathematical Society will be hosted by the University of Newcastle's School of Information and Physical Sciences.
Format
Due to the current uncertainty about future government restrictions concerning the ongoing pandemic, the conference will primarily be held on-line, with all talks delivered via Zoom. There will be a face-to-face component of the conference at the University of Newcastle's City Campus, allowing participants to mingle and speakers to broadcast their Zoom talks from lecture rooms in front of a live audience.
Important Dates
Abstract submission closes:

15th November

22nd November

[NOW CLOSED]
Online attendance registration closes:

7th December

(start of conference)
Face-to-face attendance registration closes:

29 November

Conference dinner registration closes:

29 November

Conference:

7–10 December, 2021

(Tuesday to Friday)
Venues
Zoom
All conference sessions will be held in Zoom, with connection details are available in the Zoom section. We are using Zoom Events, which must be joined via the conference lobby in the Zoom client, so please try this out before the first day of the conference.
In-person
The face-to-face component of the AustMS21 conference will take place at the University's City Campus, in parallel with the online component of the conference. The Zoom talks of selected sessions will be streamed live in the venues, and talks can be presented live in these venues while being simultaneously broadcast over Zoom.
Click here for a map (with floors and rooms)
Please note that, due to the University of Newcastle's COVID-19 restrictions currently in place, only doubly-vaccinated participants may attend in person; please bring you proof of vaccination. Please complete the form at https://forms.gle/ZPf8oiJJoYWWUETTA to enter the necessary contact-tracing information, and to indicate which sessions you would like to attend in person. This will help us allocate live venues to sessions.
We are charging a fee to contribute to catering costs, please click on the Payment link in the Register! system to make your payment.
The conference dinner will be held at the Customs House Hotel in Newcastle.
We look forward to welcoming you to Newcastle!
Accommodation suggestions
Conference Booklet
You can download the conference booklet here. It contains a detailed timetable as well as abstracts and other information about the conference.
Timetable and Abstracts
The conference timetable can also be seen on mathematics.org.au.
Schedule
The schedule has been added below. The programme is divided into 30 minute slots.
Contributed talks:

1 slot

20 min

talk +

5 min

questions +

5 min

setup next talk

Special Session keynote speakers:

2 slots

45 min

talk +

10 min

questions +

5 min

setup

Plenary talks:

2 slots

50 min

talk +

10 min

questions
ECR Workshop
To be held via Zoom on Monday 6th December. See the workshop page for more information.
Social programme
Online:
Conference Dinner
Thursday 9 December, 6:30 pm for 7:00 pm, at Customs House Hotel.
AustMS Annual General Meeting
The 2021 AGM will be held at 4:00 pm on Thursday 9th December.
Schedule
Click on the image below to download a PDF version.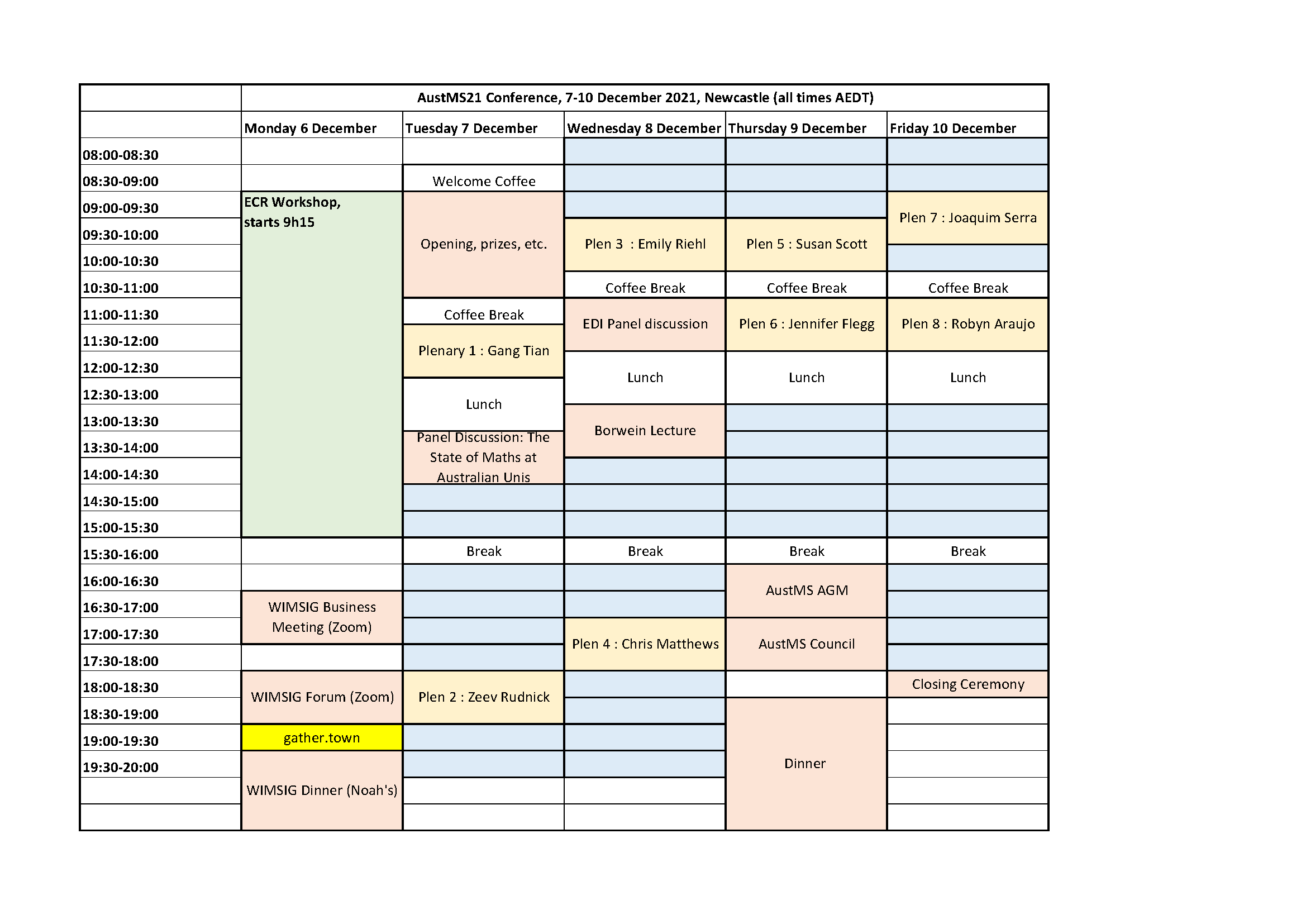 Zoom
(Note: information for speakers and session chairs has been added below)
The web page for accessing the Zoom Events Lobby for the conference is:
https://events.zoom.us/e/view/erLzglwBSJ6SRQw76GBZeg
You need to log in using your Zoom account (possibly using the SSO option for university Zoom accounts) (client version 5.6.3 or higher is required). At that point you should see one of the following:
the welcome page with a "Join Lobby" button

(great, click it and try it out!)

the welcome page with a "Register" button

(great, click it and register, then go to the link again and try the lobby)

a "404 You don't have permission to access this page" page

(read on)

if, after clicking "Join Lobby", you see "Unable to Join Lobby" (see below), you need to log into the Zoom client
Everyone needs to get to the "Join Lobby" option eventually; that is the ONLY way to join the conference via Zoom.
If you see the "Register" button, please register and then come back to the link above, where you should see "Join Lobby".
Once you get to the page with the "Join Lobby" button, please try joining it (it's open now and will remain so for the next 30 days or so). From there you can join sessions in progress and see the session schedule, etc., and "bookmark" sessions to construct your own itinerary.
If you see the "404" page, please click the "Tickets" button and then hover over your initials in the top right-hand corner of the page. Here you will see the email address that is associated with your Zoom account: send this to David.Allingham@newcastle.edu.au so that it can be added to the "guest list"; after that you should be able to repeat this process, visiting the link above, register and then join the lobby.
If you see a message saying "Unable to Join Lobby (This Zoom event ticket is associated with a different Zoom account..." after clicking "Join Lobby", it probably means that you aren't logged in to the Zoom client. Click "cancel" and then "Sign In".
Zoom Help Article
Zoom have a help article on "
Getting started as a Zoom Events Attendee
" which contains more information (but probably too much information!).
Information For Speakers
Joining your session

You must join the conference using the lobby. The link for this and details about connecting are above.
This is not a normal Zoom meeting: you must claim your ticket beforehand, as described above.
Once in the lobby you will see the sessions in progress (if any) at the top and the schedule as "Sessions" on the left.
In the Sessions page you can use the search or filter at the top to find your session.
You can bookmark sessions to construct your personal "Itinerary" on the left.
Join your session in good time.

Presenting

Once you join the session, you will enter a regular Zoom meeting which behaves as you are used to.
All participants can unmute themselves and share their screens, so please observe normal Zoom etiquette.
When your turn comes, share your screen and unmute.
The active speaker and any screen sharing are recoreded automatically.
If you do not wish for your talk to be recorded, please inform the session host so that they can pause or stop the recording.
Information For Session Chairs
Hosts and co-hosts

the first-listed organiser on the website has been given host powers
the other organisers have co-host powers
after that, these things can be delegated as usual for Zoom (eg. if you leave you have to assign a host)
the organisers will be hovering around to help with starting sessions etc.
you can happily start your session early to admit people
click the dots in the chat window to set "Participant can chat with:" to "everyone" if it is not enabled

Recording

recording for all sessions will start automatically
only the "active speaker" and screen sharing will be recorded
the host can stop or pause recording for that session using the controls at the top of the meeting
if you "stop" a meeting instead of pausing, you can re-start recordings using the controls at the bottom
it would be best to use "pause" rather than "stop" to keep session recordings in a single piece
attendees have consented to recording when they claimed their Zoom ticket, but are not recorded at all anyway unless they unmute

Muting/unmuting

once in each session it is just like a regular Zoom meeting
the host and co-host(s) have all of the usual powers to mute people and invite them to turn on their video, etc.
the host can assign host and co-host powers to other people
if the host leaves, they must assign the host power to someone else

Ending the session

you can safely start and end a session, and return to it later (eg. test it out today and still use it at the conference)
you can safely "end meeting for all" and return to it later, too
please use the allocated session on the right day (e.g., in theory you could use Tuesday's session on every other day, but most people will join the actual day's scheduled Zoom session
Speakers
Plenary speakers:
ECR Workshop
The 2021 Australian Mathematical Society Early-Career Workshop will be held online, preceding the 65th Annual Meeting of the Australian Mathematical Society. It will run on Monday 6th December.
Featuring speakers from industry and academia, the AustMS ECW 2021 aims to provide early-career mathematicians with the chance to discuss career pathways, get advice from experienced mathematicians, and (digitally) network with other early-career academics.
Registration
Registration is free and is recommended for current higher-degree research students and ECRs up to five years post-PhD. A Zoom link for the workshop sent to registered participants closer to the date of the workshop. CLICK HERE TO REGISTER.
Booklet
You can now download the ECR Workshop booklet.
Speakers
| | |
| --- | --- |
| • Brian Alspach | University of Newcastle |
| • Maria Athanassenas | Department of Defence |
| • Jennifer Flegg | University of Melbourne |
| • Ivan Guo | Monash University |
| • Nina Holden | ETH Zurich |
| • Geordie Williamson | University of Sydney |
Schedule
Monday 6th December
9:15
Welcome
9:30
Nina Holden
10:00
Ivan Guo
10:30
Maria Athanassenas
11:00
Q and A
11:30-13:30
Break
13:30
Brian Alspach
14:00
Geordie Williamson
14:30
Jennifer Flegg
15:00
Q and A
15:30
Closing
Organisers
Sophie Calabretto, Valentina Wheeler, Mat Langford (local liaison).
Special Sessions
Hover over a session name to see its organisers and abstract.
Algebra
Applied and Industrial Mathematics
Computational Mathematics
Cryptography, Coding Theory and Related Topics
Dynamical Systems and Ergodic Theory
Equity Diversity and Inclusivity in Mathematics
Geometric and Harmonic Analysis
Geometry with Symmetries
Harmonic Analysis and Hyperbolic PDEs
Indigenising University Mathematics
Integrable Systems and Mathematical Physics
Mathematics Education
Noncommutative Geometry and Operator Algebras
Number Theory and Algebraic Geometry
Optimisation
Partial Differential Equations: From Theory to Applications
Probability Theory and Stochastic Processes
Representation Theory
Topology
Visualisation and Mathematical Art
Registration
Registration is now open although submission of abstracts is now closed. Registration is for the online portion of the conference. Pricing will depend on your membership status and on whether you have research funding:
Students and unfunded AustMS/ANZIAM/ANZAMP members:

free

Funded AustMS/ANZIAM/ANZAMP members:

$50

Non-members:

$75

Special offer for those eligible for AustMS reciprocal membership:

$74

for registration + two years AustMS reciprocal membership
Face-to-face attendance (for catering etc.):

$100

Conference dinner:

$100
Abstract submission is done through the same system and closes on the 15th November 22nd November [NOW CLOSED].
ECR Workshop
Registration for the Early-Career Workshop can be made on this site, using the link below.
Organisers
Local Organising Committee
| | |
| --- | --- |
| • Chair: | Florian Breuer |
| • Secretary & Treasurer: | Juliane Turner |
| • Special Sessions: | Bishnu Lamichhane, James McCoy |
| • ECR workshop liaison: | Mat Langford |
| • WIMSIG meeting organiser: | Natalie Thamwattana |
| • Social Program: | Stephan Tornier, Ljiljana Brankovic |
| • Registration system: | John Banks |
| • Education afternoon: | Judy-anne Osborn |
| • Discord server: | Björn Rüffer |
| • Website/Zoom: | David Allingham |
| • At large: | George Willis, JV Pinto e Silva, Fran Baker |
AustMS Program Advisory Board
| | |
| --- | --- |
| • Amie Albrecht | (UNISA) |
| • Maria Athanassenas | (DSTO) |
| • Vladimir Bazhanov | (ANU) |
| • Florian Breuer | (UoN) |
| • Serena Dipierro | (UWA) |
| • Vlad Ejov | (Flinders U) |
| • Jerzy Filar | (UQ) |
| • Joanne Hall | (RMIT) |
| • Anthony Licata | (ANU) |
| • Alina Ostafe | (UNSW) |
| • Gerd Schmalz | (UNE) |
| • Natalie Thamwattana | (UoN) |
| • Chris Tisdell | (UNSW) |
| • George Willis | (UoN) |
Education Afternoon
The Education Afternoon is especially crafted towards the needs and interests of school teachers; and is free for school teachers to attend. Academics from the mathematical sciences and schools of education will present on topics of diverse interest to school teachers. Some of this will also be of broader interest to those of us who teach in any of the education sectors. All are welcome.